2022 created one of the most challenging markets we have seen in a long time. Driven by the war in Ukraine and continued COVID pandemic issues, public and private markets declined, inflation increased, and layoffs were abundant, creating an incredibly difficult environment for startups.
Though as we reflect on this challenging year, we can't help but acknowledge what kept us going through it all: community. And there might not be a better sentiment expressed than the one we received from one of our portfolio company founders after the founder summit we held over the summer bringing our portfolio together:
"Really appreciate the community you're putting together and I feel fortunate to be a part of it"
Togetherness. The thing we had all yearned for throughout the pandemic. That sense of community. Of recognizing the power of the collective and the power of the individual. So this year, instead of dwelling on the difficult times, we're grateful for the people in our lives who supported, persevered and cared for each other all the way through.
Throughout the year, we found ways to bring our founders together, to learn from one another. To share their wants, needs, dreams, desires, and yes, their hardships, too.
We heard them. Saw them caring for others and their companies. How easy it was to lose sight of ensuring their own needs were met when they were so focused on everyone else. So we launched a new plan to provide health and wellness programming to our portfolio founders because we care about our founders as whole people.
To further recognize and honor the work they do, we released our first-ever Social Impact Report highlighting the in-community work our founders and their staffs are doing to close equity gaps in America. The data show 65% of our portfolios have at least one founder who is a woman and/or is a person of color. That shatters the average across the venture capital industry.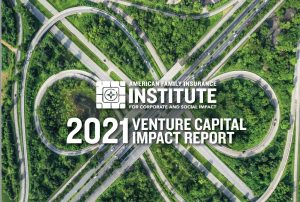 The facts and figures are powerful, telling, but it's important to note behind them are people, communities struggling against historical inequities. We're proud of the care and intentionality our portfolio companies show in addressing inequities within these communities while also recognizing there is a long way to go.
Nevertheless, our portfolio companies' successes over the last year have been inspiring and we wanted to share a few across our four focus areas.
Resilient Communities:
Solstice exited our portfolio with an acquisition by Mitsui & Co. U.S. subsidiary, MyPower Corp. This will help accelerate the adoption of community solar for the many U.S. households and small commercial businesses that are still unable to install rooftop solar solutions due to various structural, contractual, or financial barriers.  Low- and moderate-income communities are disproportionately at risk from the harms of climate-related crises and community solar allows these historically under-resourced communities to benefit from clean energy savings.
Ivy Energy raised a seed round to help accelerate its mission to bring the benefits of solar energy to renters and building owners. The company has now partnered with two of the largest Real Estate Investment Trusts in the country to achieve national reach.
The U.S. Centers for Disease Control (CDC) has selected Biobot Analytics to expand the agency's National Wastewater Surveillance System (NWSS), which is an integral part of the plan to fight COVID-19 and prepare the country for future pandemics. Over the next year, the CDC will work with Biobot to collect and analyze wastewater samples from 500 communities across the country to gather SARS-CoV-2 data and other emerging infectious diseases.
Economic Opportunity:
In March, Amazon's Career Choice Program selected EnGen as a language-learning partner to provide the company's hourly employees access to English Language skills. EnGen is the only Certified B Corporation devoted to serving immigrants and refugees through language learning and delivers career-focused personalized language learning technology with measurable outcomes to empower non-native English speakers to access economic opportunity.
In April, Paladin CEO and Co-Founder Kristen Sonday announced the company's $8M Series A.  This oversubscribed round is supercharging the pro bono legal platform's growth and impact, increasing access to justice for individuals across the country and around the world – including in Ukraine.
To further build out our thesis that capital access is required to enable small business growth and home ownership in underserved communities, we led the Series A round for CNote, Inc. CNote provides a platform to enable significant holders of capital (corporations, investment managers, foundations) to easily invest "impact" cash and fixed income into small banks and depository institutions for underserved communities.
Equity in Education:
KaiXR joined our portfolio spring 2022, bringing an interactive exploration platform to students to experience historical and cultural events remotely and to create virtual worlds. KaiXR offers virtual reality field trips,STEM experiences, and a virtual maker space to schools, local libraries, STEM centers, and museums.
EliteGaming Live (EGL) raised additional capital and successfully expanded its sales efforts to major school districts. EGL gives kids in after school programs the opportunity to compete in competitive eSports while simultaneously exploring STEM education and career exploration.
BookNook continued helping students make up for learning loss throughout the pandemic. In 2022, the company supported students across 2600 schools and 38 states.
Healthy Youth Development:
As a bit of crossover with our Equity in Education thesis and a strong complement to KaiXR, we closed a Seed investment in MathTalk PBC fall 2022. MathTalk engages children and parents together in positive math experiences in their neighborhood through augmented reality connected to the community spaces families frequent, and with standalone apps enabling similar experiences wherever families might find themselves.
We also invested in an early seed round for Babbly, which is a female-founded company leveraging AI and machine learning to deliver insights into infant speech and language development to parents. If you or someone you love has an infant or toddler, we encourage you to download the free Babbly app!
Vincere Health also raised additional strategic customer-led funding from Inception Health and BrightEdge, the impact venture capital arm of the American Cancer Society. In doing so, they demonstrated the growing interest from investors in value-based care and the ability to engage populations that have historically been difficult to reach. To date, over 75% of clients they have treated receive Medicaid benefits.
——
We live in a world with many troubling issues, but we believe we have the ability and resources to change the world through action if we can continue to come together and support each other. As investors, we look forward to continuing to build out this community change-leaders who have founded and lead new companies that can and will make a difference.
To express our gratitude and to thank all of our portfolio companies for the great work they do, we will be giving our founders money this holiday season to contribute to a non-profit of their choice.
Thank you from the entire AmFam Institute team and we can't wait to see the ongoing positive impact these amazing people and teams will continue to make in 2023.
In community,
The AmFam Institute Fund Team