In order to understand statistics, many people try to picture scenarios. Maybe something like, "Strolling through the farmer's market, you will pass dozens of survivors of domestic abuse." This helps us visualize what the numbers look like without getting too close to them. But, what is really striking and something that we don't do too often, is to think of an intimate family gathering and try to fathom that statistically, there will be people in that room who have experienced domestic abuse.
According to the Center for Disease Control and Prevention, one in four women and one in ten men will be a domestic violence victim at some point in their lifetime. This statistic means that we all know someone who has been affected by domestic abuse, whether we are made aware of it or not.
That's why a group of volunteers in Madison are raising awareness and serving as a support system for survivors at the Domestic Abuse Intervention Services (DAIS) shelter. The goal is to help mostly women find ways to break away from often life-threatening situations and reclaim their independence.
"These are people coming from really dangerous, possibly lethal situations with very few resources," Shannon Barry, executive director of DAIS, said.
Barry got involved with the organization after her first job out of college working for a group home in Seattle. She noticed many of the kids and teenagers who had been through the youth justice system often had a history of family violence.
"So much of it all goes back to trauma," Barry said. "I think if we can address trauma and interrupt those cycles of family violence, then we can have an impact on a much broader scale."
That's why Barry came to DAIS in 1999 as a volunteer and after a brief break, came back as executive director in 2007.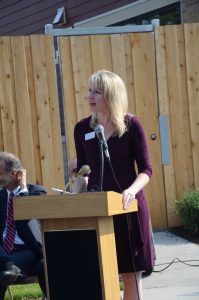 DAIS is best known for its intervention services, according to Barry. The group provides a wide band of resources including a 24-hour help line, group therapy, legal advocacy and the only domestic violence shelter in Dane County. The shelter offers victims and their children a place to stay for up to 45 days if they need to leave their home to escape from their abuser. The staff at DAIS provides emotional support for these families and shares resources for how they can move forward.
"I would say that there's a reason I'm in administration now versus direct services," Barry said. "I think to work in direct service takes a really special kind of passion and motivation."
Along with the shelter's 56 beds being constantly filled, there is also a waiting list. Barry said that's why there needs to be a stronger push towards preventative measures when it comes to intimate partner violence. In order to prevent, the root causes must be identified and combatted.
"We're pulling all these drowning people out of the river and we're helping them go on to lead healthy lives," Barry said. "But at some point, you have to ask why people are falling into the river to begin with."
She said there's national data showing a correlation between economic stress and domestic violence rates. For example, there was a spike in partner violence reports during the Great Recession of 2007 through 2009, according to the National Coalition Against Domestic Violence. While this is a factor, Barry said there are many systems of control and societal norms that are also deeply connected to the issue.
A great example of preventative initiatives that DAIS has implemented is the high school male youth club called MENS. MENS, which stands for Men Encouraging Nonviolent Strength, provides sessions that focus on redefining masculinity and identifying toxic messages embedded in media. The program has been evaluated by a University of Minnesota researcher who found that the club effectively changes attitudes and behavior, according to Barry.
Barry said that she wants to continue implementing more preventative initiatives like MENS. She also said that DAIS staff is constantly working to evolve with the needs of the community. Regardless, it is clear that the emotional work that DAIS staff does every day can't be done without passion.
"The best piece of advice anyone ever gave me about my career was my mom," Barry said. "She told me to spend life doing what you're passionate about and what you love and the money will work itself out… and she's been right."