Tess Peppers felt a sense of urgency when she decided to make a career shift that would have her entering a completely different industry.
She had no bearings– no idea how much people in this new field were being paid or if the job offers she was receiving were competitive.
"My biggest fear was to be perceived as pushy," Peppers said. "That's very scary as a woman."
This hesitation to negotiate is exactly why Peppers went to her friend, Jordan Sale.
Sale had recently founded a for-profit company called 81cents. It provides women like Peppers data and insights to negotiate their salary or job offers with confidence. The name of the company refers to a statistic from the Institute for Women's Policy Research that women make an average of 81 cents on the dollar when compared to men doing the same job.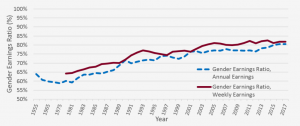 The Gender Earnings Ratio, 1955-2017, Full-Time Workers
Source: Institute for Women's Policy Research
Lisa Shek, who met Sale in a Facebook group for women in product management, immediately related to the 81cents mission. Shek had worked at multiple tech startups and knew what it felt like to be the only woman in a room of men. She began helping out and eventually became the Chief Operating Officer of the company. Shek said that the company's mission is not just about changing a woman's pay, but also about changing the trajectory of her life.
"If we can help women feel empowered and confident heading into that negotiation," said Shek, "then we can take at least one step in a much larger mission to bridge the wage gap."
The 81cents service depends on a pool of roughly 400 voluntary reviewers who work in different positions and industries. When a client requests a compensation report through the 81cents website, they take a survey that lists their current pay along with other information. Their profile is then sent anonymously to the reviewers. Shek said the average response rate from the reviewers is notably high at 60 percent. Their feedback is then sent to the customer with metrics, negotiation tips and tricks, and coaching on how to prepare for their upcoming interview, negotiation or meeting.
81cents reports helping over 130 women since they began in September, 2018. Shek said that those customers have received an average 12.5 percent increase in their compensation packages which the company estimates to be more than a million dollars in added aggregate compensation.
"My favorite part is actually talking to the customers and the reviewers and seeing how powerful this actually is and how grateful people are and how much it works," Shek said.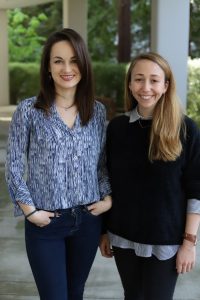 Image: Lisa Shek and Jordan Sale
Through its service, 81cents is also creating a mutually-beneficial online community. Shek described one candidate who requested a report and ended up connecting with one of her reviewers. The reviewers have the option to connect with customers and share more advice if they decide to expose their identity. In this case, the reviewer became a mentor for the candidate and eventually found her another job offer through her own network.
81cents is creating substantial opportunities, but Shek said that the company recognizes that not everyone has the privilege to negotiate and that there are pay disparities beyond gender.
"It's definitely not 81 cents to the dollar if you factor in race as well," Shek said. "So we're not there yet to be looking at all of the different race lines but that is definitely somewhere that we're headed."
Shek also acknowledged that negotiation is just one piece of closing the wage gap. She emphasized that people, especially more senior leaders, must be aware of their inherent and societal biases in order to have a more diverse and equitable workplace.
"If you have a staff that is 80 percent older men, then that's something to be mindful of because you don't have that diversity and you don't have that perspective," Shek said. "Having that diversity with the decision makers making more equitable decisions, is really important right now."
81cents wants to increase its reach to help 100 customers per month. That would be more women like Tess Peppers, making more informed and confident negotiations in the workplace. Peppers said that with her industry-specific information from 81cents, she was able to speak to her future employers with purpose and knowledge.
"To have that information at my fingertips and know that what I'm asking for is reasonable and makes sense and is competitive," said Peppers, "That feels so empowering"