Most days, I strive to live by the adage that you cannot be helpful to others if you aren't also taking care of yourself. While this is an important maxim to live by 365 days a year, the month of May is a time to bring increased attention to the importance of supporting mental health for ourselves and others.
While the COVID-19 pandemic is now endemic, and many aspects of life have returned to some version of "normal," individuals and families are still managing the delayed traumas brought about by the last few years. You cannot open social media sites without being reminded of our crisis in youth mental health.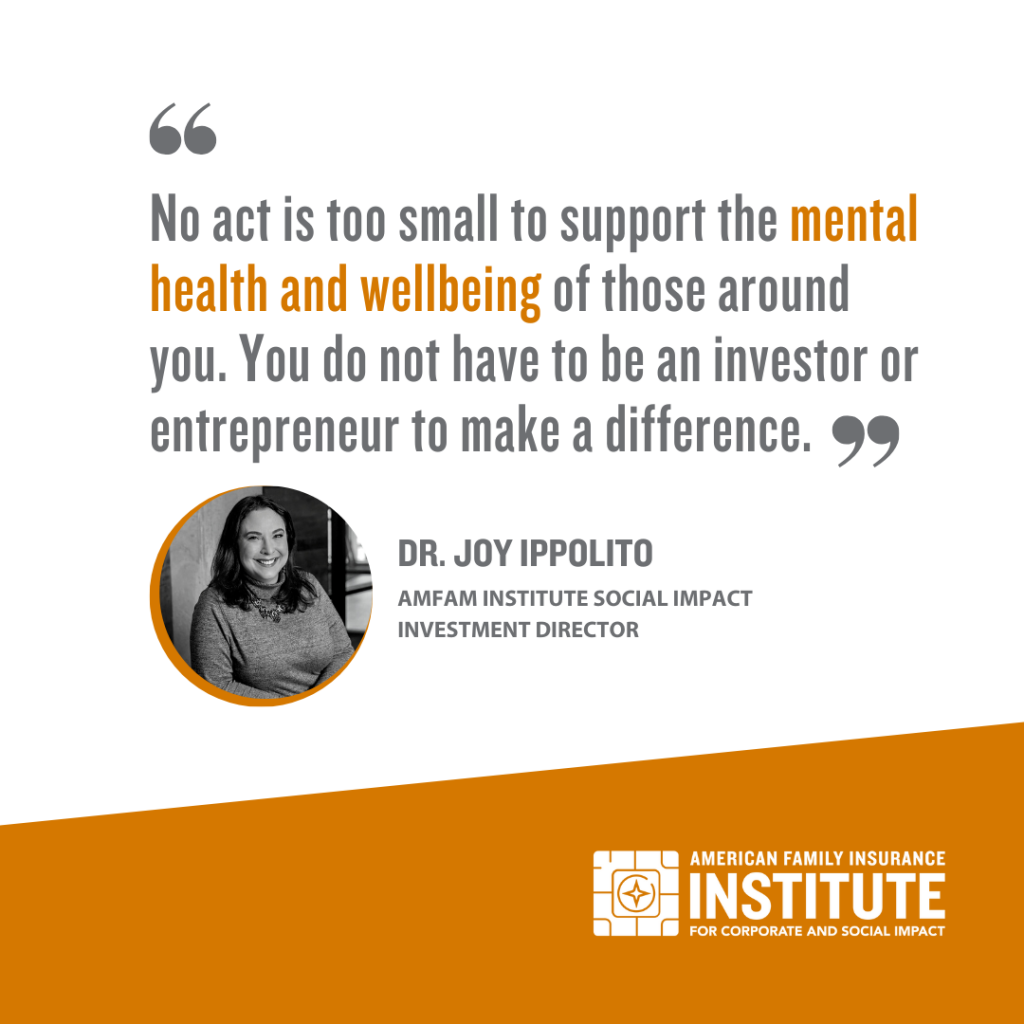 Finding a sense of safety, belonging, and acceptance in our communities is also top of mind for many these days. If you watch the news for too long, it may feel like we're all shouting past each other and not really looking at and listening to each other. There are times I'm sure many of us wish we could wave a proverbial magic wand and make all of it better. But the reality is that it takes all of us coming together to help solve these long-standing issues. Each of us needs to play our part.
At the AmFam Institute, the role we play is to invest in for-profit startup companies and community initiatives led by inspiring entrepreneurs who want to help close the gaps in access to care in mental health and wellbeing. From supporting young people and their families with their mental health needs, to serving as a lifeline to those in crisis, our portfolio companies look for innovative ways to implement services through technologies like AI, teletherapy, online education, and in-person care.
We also help support our portfolio company founders through our founder health and wellness initiative, as providing them with the necessary tools early in their entrepreneurial journeys helps prevent burnout while they drive forward their emerging companies.
And on our own teams, it is important that we model for each other what it means to bring your whole self to work each day. We aspire to give equal space to physical and mental health and recognize their mutually-shared importance in our ability to support successful change and innovation.
No act is too small to support the health and wellbeing of those around you. You do not have to be an investor or entrepreneur to make a difference. My challenge to those of you reading this is to incorporate some small change into your daily life that will positively impact those around you. It doesn't have to be public, cost any money, and or drastically take you out of your comfort zone. Smile at a stranger. Say "Thank you" to the person who delivers your meal. Give a compliment to a co-worker or fellow student. Wave to neighbor or a busload of kids. You never know who is feeling invisible that day, and who will be overjoyed that they were simply seen and acknowledged.