It sounds hard to fathom, but thousands of young people experience homelessness every day. While most aren't sleeping on the street or in shelters, they're still moving from place to place. Sometimes these young people couch-surf, staying with friends one night, or a relative the next – but still on their own. They're still homeless.
Whatever the reason, a young person on his or her own faces different challenges than a homeless adult. For one, graduating high school becomes much harder. In fact, students experiencing homelessness are 87% more likely to drop out than their housed peers. Without that degree, youth are 4.5 times more likely to experience homelessness as young adults.
As a guidance counselor in the Tucson area, Ann Young noticed talented and motivated students were dropping out of school because of homelessness – while being forced to live on their own without a parent or guardian. These students remained focused on their education, which inspired Ann – and her fellow teachers school counselors and community members – to create Youth On Their Own (YOTO) in 1986.
Today, YOTO provides financial assistance and incentives for kids to stay in school in Pima County, Arizona middle and high schools. This work to close equity gaps in the greater Tucson community provides guidance and support to students, while helping them meet basic needs. Through the years, YOTO has helped thousands of kids stay in school and graduate.
Related story: YOTO helps Elizabeth Camarillo Gutierrez move from Flowing Wells High School to Ivy League graduate to TED Talk Speaker
Since 2018, the American Family Insurance Dreams Foundation has provided $40,000 in grants to YOTO, supporting specific programming and general operations. In 2022 – through its partnership with the Tucson-based Cologuard Classic – the Dreams Foundation provided an additional $5,000 grant to YOTO.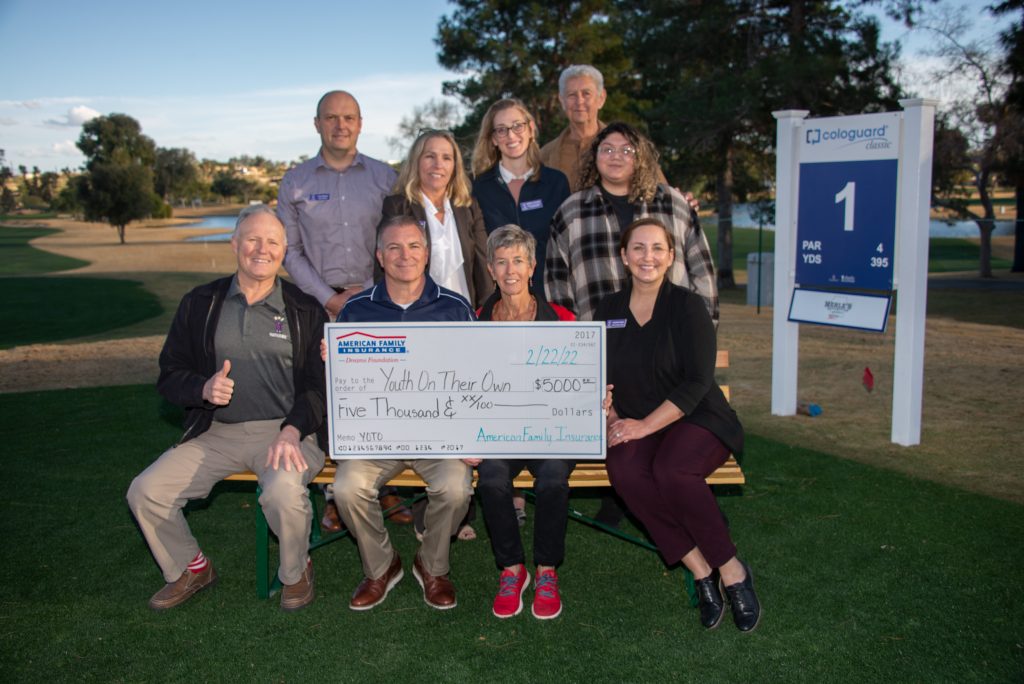 "The support from the American Family Insurance Dreams Foundation helps youth experiencing homelessness in Tucson stay in school, graduate, and go on to build successful lives for themselves and their families," says Bethany Neumann, Director of Development & Communications. "This committed, consistent support for YOTO shows youth that folks in our community have their backs and want to see them succeed."
That consistency has been especially valuable during the pandemic, when school enrollment for all youth dropped dramatically – and youth experienced higher instances of homelessness or instability. Students like Vanessa, who battled COVID-19 and a host of other challenges the past two years, benefited from resources available through YOTO.
Vanessa has fully recovered. She graduated high school and is now a full-time student at the University of Arizona, while also serving as a YOTO ambassador. (Watch this video to learn more about Vanessa's experiences.) YOTO hopes to see enrollment return to pre-pandemic levels, serving approximately 1,500 kids by the end of the school year.
"The American Family Insurance Dreams Foundation recognizes the unique leadership role that Youth on Their Own plays in caring for the youth in our community," says Maggie Pascaly, Community and Social Impact Manager for American Family Insurance. "We know that leading with trust in our partners through unrestricted financial support and centering learning is vital to running healthy organizations and, in turn, creates healthier communities."