FEATURE: LOTUS Legal Clinic, Milwaukee, WI
Sitting at the sentencing of the man who sexually assaulted her, 15-year-old Lindsey Anderson was already thinking about how she could use her traumatizing experience to help others.
"Someday I will be back," Anderson thought, "not as a victim, but as an advocate for victims."
Almost a decade later, Anderson would meet Rachel Monaco-Wilcox and her opportunity to help other victims would begin. Monaco-Wilcox is the executive director and founder of LOTUS, which stands for Legal Options for Trafficked and Underserved Survivors. LOTUS serves as a free victim rights legal clinic in Milwaukee.
Anderson began volunteering at the clinic while she was still in law school and has continued to volunteer her time as a pro bono lawyer for victims with sometimes eerily similar stories to hers.
"My first case as an attorney was representing a 15-year-old victim of sexual assault and that was exactly the age that I was (when she was assaulted)," Anderson said. "Being able to step into her place and be her voice when she couldn't be there emotionally was a very rewarding experience for me."
LOTUS began while Monaco-Wilcox was teaching law at Mount Mary University in Milwaukee. She was known for her victim-centered educational platform and received a call from a detective asking for legal assistance for a group of women who had just testified against their trafficker. That's when the idea for LOTUS was officially born.
"If you don't access direct voices of victims, either through their stories or through listening really deeply to what they're telling you," said Monaco-Wilcox, "even as a lawyer, you're going to miss some of the significant opportunities to create change."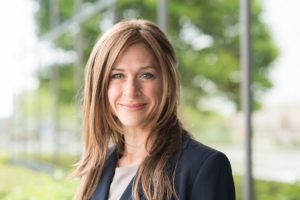 "For me, an empowered survivor is somebody that says, 'I cannot change what happened to me but I know that I can make a difference in this world in a place where it's really needed and somebody else out there feels terribly alone'."
—-  Rachel Monaco-Wilcox, Executive Director and Founder of LOTUS
———————————————————————————————————————
Once Monaco-Wilcox began taking other cases and building a legal team, she made the decision to leave her teaching job. Something she continued, however, is the "Untold Stories" program that she started at Mount Mary. The program involves a multifaceted writing workshop for survivors that helps them articulate their stories and eventually, share them. She says the program is one of the defining pieces of LOTUS and has become a catalyst for turning survivors into advocates.
"For me, an empowered survivor is somebody that says, 'I cannot change what happened to me but I know that I can make a difference in this world in a place where it's really needed and somebody else out there feels terribly alone'," Monaco-Wilcox said.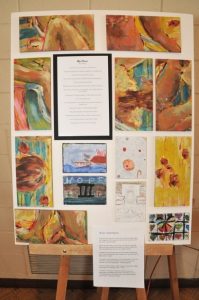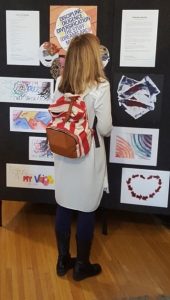 Pieces made by survivors in an "Untold Stories" showcase
———————————————————————————————-
Recently, for the first time ever in the state of Wisconsin, a district court judge ordered restitution for a sex trafficking survivor after the LOTUS client testified just a few feet away from her trafficker. She demanded to be paid the amount she made for him.
"I think she, at that moment, felt like she had a voice and that the judge was hearing her," said Erika Petty, the director of legal services at LOTUS who represented the woman in court. "The meaningfulness of that can't be overlooked."
Attorneys like Petty, Anderson and Monaco-Wilcox represent the group's greater mission of shifting attitudes towards sexual violence and victim rights, especially in the criminal justice system. They say the topic is often swept under the rug, but LOTUS makes that increasingly difficult to do. The group often goes to the Wisconsin Department of Justice to advocate for these rights, along with many survivors who share their "Untold Stories."
Monaco-Wilcox wants to expand LOTUS state-wide, to continue educating communities and serve Wisconsin's more underserved groups like Native Americans. She would also like to teach again so that she can help increase the small number of victim-informed lawyers currently practicing in the United States. Through this growth, Monaco-Wilcox knows that the most important mission is to continue helping victims.
"Just knowing you can take somebody out of isolation and help them have a happier, more fulfilling life by their own design," she said. "That's magic."
Anderson can attest to this sentiment too. LOTUS gave her the space to help other survivors find their voices, but it also gave her the opportunity to find her own. She participated in the "Untold Stories" program and wrote about her journey as a survivor. She hopes to turn her story into a memoir someday that will undoubtedly share the importance of LOTUS and the impact it's had on her life.
"We challenge the system to start thinking differently one person at a time," Anderson said. "Wisconsin needs LOTUS because we are changing people's lives."